Webinar: Impact of Covid-19 on Surgical Education + Online Hands-on Laparoscopic Training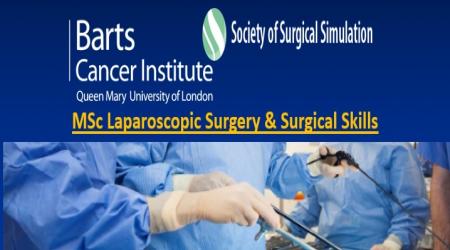 Webinar: Impact of Covid-19 on Surgical Education + Online Hands-on Laparoscopic Training
Venue:
Webinar
Event URL:
https://upraisal.io/events/739
Society of Surgical Simulation
How will the landscape for digital health and medical education look post-COVID-19?
Digital health is disrupting healthcare and education: as a college or a training provider working on digital education, how can you engage in this world for providing technical & non-technical skills training remotely.
In October 2005 Barts Cancer Institute, Queen Mary University of London launched the world's first course in acquiring surgical skills by virtual reality simulation to "globalise and fast-track surgical training"
During this conversation with Prof Bijendra Patel, we will cover digital education and innovation as a tool:
Enhance learning using technology, for democratisation of surgical education.

Improve both technical skills and decision making in surgery remotely

Expand access to surgical skills training by simulation globally

Increase peer to peer self-directed learning

Increase student engagement by using immersive platforms for higher knowledge retention and thus improve efficacy and shorten your learning curve

Address access to education and higher education deficit in surgery.

Prevent the surgical education system collapse during current and future crises
Webinar Agenda:
1. Introduction: Impact of Covid-19 on Surgical Education - A New Approach for Changing Times - Speaker Prof Bijendra Patel (20 min)
2. Cholecystectomy Master Class
(a) Undergraduate & Residents - Speaker TBC (15 min)
(i) Applied anatomy and pathology
(ii) Management of gall stone disease – current guidelines
(b) Laparoscopic cholecystectomy video presentation – Speaker: Prof Bijendra Patel (30 min)
(i) Standard case – how to do it
(ii) Complex case – how not to do it
3. Panel Discussion - Prof Bijendra Patel & Prof Shafi Ahmed
4. Interactive - hands on laparoscopic skills training online – first laparoscopic surgery master class. Demonstrator - Prof Bijendra Patel (30 min): Laparoscopic extracorporeal knot tying and suturing
Participant instructions for online laparoscopic skills training
(1) Watch the video and animation on our YouTube channel to familiarize yourself
(2) Practice using a 1 m long string or a rope around an assistant's finger or around any fixed object such as the leg of a table or chair.
(3) For making endoloop using 75cm length of string only (Vicryl 2.0 suture material can be used - cut the needle off)
Instructional video for online participation
https://www.youtube.com/watch?v=IExshwCLbkI